LARGE ROLL AND JOURNAL REPAIR
ROLL GRINDING, MACHINING, AND WELDING SERVICES PROVIDED BY HAMILTON PRECISION, LLC, a Division of Seilkop Industries, Inc.
WE WORK WITH OVER 25 TYPES OF ROLLS FROM 8-40″ IN DIAMETER. OUR SKILLED TEAM CAN REPAIR YOUR ROLLS BACK TO OEM SPECS.
Hamilton Precision, LLC, a Division of Seilkop Industries, Inc. features just-in-time, rebuild, redesign, and engineering services to accommodate all of your roll grinding and equipment repair needs. With many of our other capabilities, including grinding of rolls, machining, participation in your preventative maintenance plans, dynamic balancing (up to 5,000 lbs), and G.E.M. super finishing, we're well-equipped to handle a variety of intended applications – from bearing blocks to worn journals. Hamilton Precision, a Division of Seilkop Industries, Inc. works with over 25 different roll types, and features a roll grinding capacity of up to 40 inches in diameter. In addition, we are the exclusive distributor of hard to find Crossley Press parts used in the refractory, ceramic, clay, and tile industries. We carry the original OEM (The Crossley Machine Co.) blueprints, and can remanufacture your spare parts needs.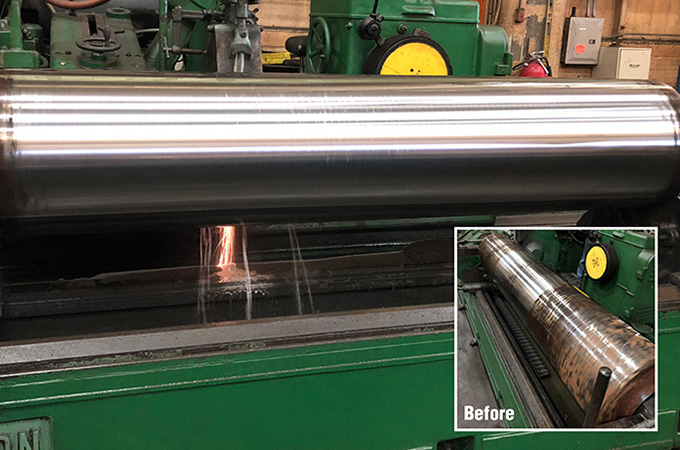 General Capabilites
J.I.T.
Rebuild
Redesign
Reverse Engineering
Industries Served
Concrete
Heavy Equipment
Industrial
Manufacturing
Paper Mill
Steel Mill
Repair Capabilities
Assembly
Concave Rolls
Crossley Equipment
Crown Rolls
CNC Turning & Milling
Dynamic Balancing - to ANSI Specs
Equipment Rebuild
G.E.M. Super Finishing
Grinding
Journal Repair
Profile Grinding
Roll Fabrication
Materials
Bronze
Hastelloy
Polyurethane
Rubber
Steel
Stainless Steel
Roll Types Serviced
Backup rolls
Bed rolls
Billy rolls
Bridle rolls
Conductor rolls
Coil coater rolls
Contact rolls
Deflector rolls
Dryer rolls
Feed rolls
Furnace rolls
Guide rolls
Idler rolls
Pick up rolls
Pinch rolls
Snubber rolls
Squeegie rolls
Table rolls
Tension rolls
Suction rolls
Felt rolls
Crown rolls (convex or concave)
Upcoiler rolls
Urethan rolls
Industry Standards
ANSI
American National Standards Institute
ASME
American Society of Mechanical Engineers
ASTM
American Society for testing and Materials
Mil-Spec
Military Specifications
File Formats
AutoCAD Software utilized
AutoCAD (DWG, DWZ)
BMP
Bit Mapped Graphics
DXF
Drawing Interchange Format, or Drawing Exchange Format
GIF
Graphics Interchange Format
JPG or JPEG
Joint Photographic Experts Group
PDF
Portable Document Format
TIFF
Tagged Image File Format
Crossley Press Capabilities
Parts & Repair:
Air Operated Free-Piston Pump
Friction Press
Four Cylinder Slip Pump
Hydraulic Press
Refractory Brick Press
Tile Press