RECONDITIONED CRANE WHEEL ASSEMBLY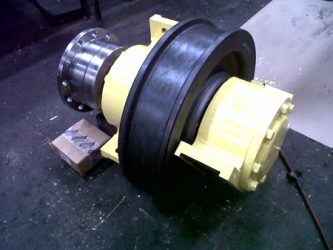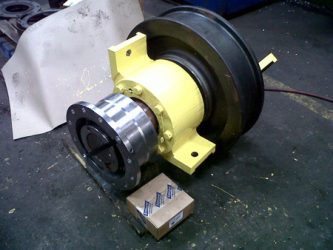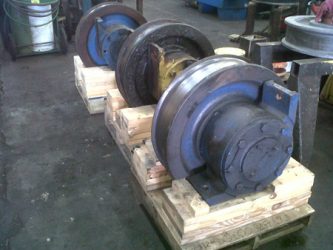 Hamilton Precision, LLC, a division of Seilkop Industries, Inc. worked extensively with our customer on the reconditioning of their crane wheel assemblies that are used to handle products in the steel and paper industries. This particular crane wheel assembly came to us to be refurbished back to OEM specifications. It has a 27″ crane wheel and weighs approximately 2,000 lbs.
After the crane wheel was in our possession, Hamilton Precision, a Division of Seilkop Industries, Inc. started the assessment process to define the scope of work that is required to accomplish OEM specifications. Every crane wheel assembly was assigned a unique identifier and was fully inspected and all as-found information documented and shared with our customers. Inspection reports, assessments process, and final assembly requirements were a continual collaboration between Hamilton Precision and the customer.
Once the scope of the work was established and agreed upon with the customer, we then began to refurbish axles, bearing housings, inspect when needed, replaced bearings, replaced all seals, and inspected the wheel to see if it could be reused. All items that were deemed reusable went through a non-destructive testing procedure to insure the integrity of the material. At assembly, new grease was used and was packed to the customer's requirements. Bearing housings were painted, and a Hamilton Precision, a Division of Seilkop Industries, Inc. nameplate was attached with identifier and phone numbers for ease of traceability. Inspection reports of the final refurbished crane wheel assembly were then finalized and filed within our database and our customer's quality department. 
Our Process
Incoming Inspection
All assemblies are fully inspected during the teardown phase to establish the scope of work.
Mechanical & Non-Destructive Testing
A mechanical and non-destructive test is performed on all critical parts. All information is documented and a unique identifier is assigned for complete traceability.
Opportunities for Improvement
Our engineers will identify opportunities to improve the performance of your crane wheel assembly.
Repair & Rebuild Services
We have in-house burnout, grinding and CNC machining capabilities to make repair and new parts – quickly. Our experience in the refurbish of axles, housings, and bearings is second to none.
We are often able to exceed OEM specifications and are proud of our track record in improving overall performance with newer technologies.
RECONDITIONED CRANE WHEEL ASSEMBLY PROJECT HIGHLIGHTS
Capabilities/Processes
Roll Grinding
Lathe
Assembly
Quality
Inspections
Tolerances
+/- .001 runout across an 86" face
Single digit Ra finish

Product Weight

12,000 lbs.

Materials Used
Steel
316 Stainless Steel
Hastelloy

Product Length


181"

Products Diameter

40"

Cutting Method

Lathe

Grinding Method

Naxos Union 40" x 240"

Packaging

Paper wrapped with urethane chock blocks, and shrink wrapped

Non-Destructive Testing

Mag Particle and UT

Volume

1-2 per week

Delivery Location

Texas