RECONDITIONED CONDUCTOR ROLLS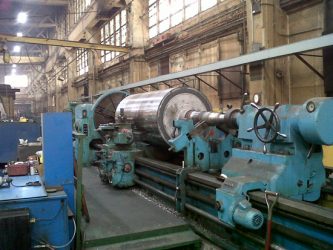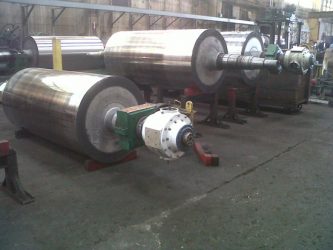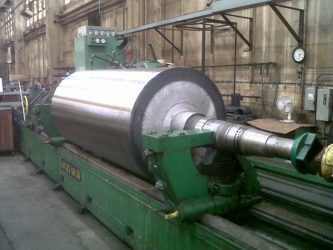 At Hamilton Precision, LLC, a division of Seilkop Industries, Inc., we work extensively with our customer on the reconditioning of their conductor rolls that they use to manufacture rolled steel coils for the automotive and appliance industries. This particular roll that we recondition is 12,000 lbs, 40″ in diameter with a face of 86″, and total length is 181″. These rolls are fabricated out of steel, 316 stainless steel, and Hastalloy. After the roll is in our possession Hamilton Precision, a Division of Seilkop Industries, Inc. starts the assessment process to define the scope of the work that is required to accomplish OEM specifications. Every conductor roll is assigned a unique identifier and is fully inspected and all as-found information is documented. We keep the customer completely involved in and informed during this process. 
In fact, the inspection reports, assessment process, and final assembly requirements are a collaboration of efforts between Hamilton Precision, a Division of Seilkop Industries, Inc. and the customer. Once the scope of work is established and agreed upon with the customer we then begin to refurbish seal and bearing fits. If the roll has a considerable amount of run out, we will lathe cut the face before the grinding operation which has a capacity of 40″ swing and a working length of 240″. Once all lather work is complete, we then grind the face of the roll to the customer specified requirement. In this case =/-.001 across the 86″ face. We have the ability to grind a finish in the single digits. Once the roll is ground within acceptable tolerance, we then completely assemble all seals, specially packed bearings, bearing boxes and collector heads. Inspection reports of final refurbished roll are then produced and filed within our database and our customer's quality department.
RECONDITIONED CONDUCTOR ROLLS
Capabilities/Processes
Lathe
NDT
Assembly
Quality
Inspections
Tolerances

+/- .001

Product Weight

2,000 lbs.

Materials Used
A36
4140
Stainless Steel
Specified Wheel
Material (provided by client)
Packaging

Skids and shrink wrapped for long term storage

Non-Destructive Testing

Mag Particle and UT Testing on Axles

Delivery Location

Ohio